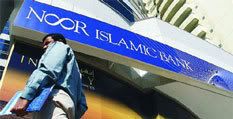 Sharia compliant credit cards being offered by Noor Islamic Bank in a very unique and unusual manner. These credit card are to promote a healthy lifestyle.
Noor Islamic Bank has launched a brand new and ground breaking program for those who desire to be fit and maintain a healthy lifestyle. This "Fit for Life" credit card offers many benefits for those interested in exercising their way to better health.
Who is Noor Islamic Bank?
Noor Islamic Bank was created in 2007 and is located in Dubai, UAE. The bank is based on Sharia guidelines and has many leading scholars which direct how the bank is to be run. The bank is a full service bank offering the now popular "Takaful" (Islamic) credit cards.
What is a Takaful Credit Card?
Takaful can apply to many areas of Islamic life to include insurance and banking. Takaful means, "guaranteeing each other." This concept is not new and has been used for thousands of years. The basic premise of this type of credit card is where a multitude of people pool their funds for the betterment of the society. Each member realizes that they may benefit or lose. If there are bad loans or bad deals made, then all the investors must suffer the loss.
"And help one another in righteousness and piety and do not help one another in evil deeds and enmity"
(Al Maidah verse 2)
Details of the Fit for Life Credit Card
There are four types of credit cards: classic, gold, platinum and infinity. Each type of credit card offers package deals. Although some have advertised that there are many benefits to this credit card, not all packages are the same. Infinity credit cards offer the most benefits. There is an annual fee attached to this takaful credit card, but the credit card is according to the Sharia ruling.
John Chang, Head of Retail Banking for Noor Islamic Bank said, "Our 'Fit For Life' credit cards will help our clients adopt a healthier way of life, alongside a more responsible view to managing their finances."
The benefits of the "Fit for Life" credit card include many. The main benefits of this program includes:
Gold clubs and fitness centers at selected locations.
Free iPhone4.
Free valet parking.
Buy one get one free dining discounts.
Loyalty points and cash back incentives.
Road side assistance.
Noor travel desk assistance.
New Age of Credit on the Horizon
Is this a scam or is this a legitimate deal? Although to most it may seem that this is just another promotion scam that has hit the news. This credit card for most in Dubai will be attractive with balance transfer abilities.
You can transfer up to 90% of another credit card to this card. As with any deal, read the fine print before signing on the dotted line. This "Fit for Life" credit card is meant to help the user to get healthy and learn how to balance their finances properly.
References:
Noor Islamic Bank
"What is Takaful," Ansar Finance Group
"Noor Bank Offers "Fit for Life" Credit Cards, " AME Info
Photo courtesy of Photobucket: guydan200